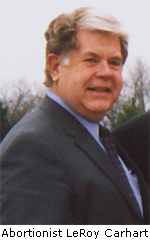 Germantown, MD - A 29-year old woman died yesterday as the result of fatal complications suffered during an abortion at 33 weeks that was done by LeRoy Carhart at Germantown Reproductive Health Center in Germantown, Maryland. Information about the incident comes from an extremely credible anonymous source.

The woman, who came for a third trimester abortion from out-of-state, arrived at GRHC on Sunday and was seen by pro-life activists every day through Wednesday. Witnesses said she appeared "pale and weak."
Early Thursday morning, the woman began suffering chest pain and other discomforts. Her attempts to reach Carhart were unsuccessful. The woman was taken by her family from her hotel to a nearby hospital emergency room at approximately 5:00 a.m. Efforts by hospital staff to contact Carhart or get informational assistance from the abortion clinic were unsuccessful.
The patient suffered massive internal bleeding into her abdominal cavity. She slipped into a Code Blue condition approximately six times before finally succumbing to her injuries at around 9:30 a.m. The case has been placed with the Medical Examiner for further investigation.
FYI, Carhart is a former friend of George Tiller, the late-term abortionist, who was gunned down two years ago. I read somewhere that he is carrying on the abortions that Tiller would have done had he lived.
At the recent March for Life, Father Frank Pavone put together a list of women who have died from abortions and made it into a Tombstone Poster which was distributed to those who attended the Youth Rally. He also read out these names at a prayer vigil outside a Planned Parenthood abortion clinic in Washington, DC. The list numbered several hundred women, all dead from abortion complications.
I wonder how many women die in Canada from abortion. A woman who works at the hospital here in Halifax and registers people coming in for treatment told me that many girls/women arrive the evening of their abortion or the following day. They are admitted for treatment, suffering from hemorrage or pain or infection. The report never states that the cause of their problem was an abortion gone wrong. So we would have no idea of how many women arrive for treatment after an abortion, and I am sure we would never hear of a woman who died from an abortion gone wrong.
Perhaps we need to get Patricia Maloney of
www.runwithlife.blogspot.com
to look into this. She certainly has unearthed other facts about abortion and has brought things out into public view, that our health system would prefer to keep hidden.